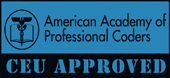 Up to 14.5 CEUs!




Up to 16 CEUs!

CEU Details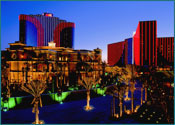 Rio All-Suite Hotel & Casino


Take-Home Work Tools
on your CD-ROM!
• A managed care contracting checklist

• An example of a great weekly A/R report
• Scripts your front-desk can use to collect copays
• A cheat-sheet to improve charge capture
• Medical necessity decision trees
• An audit checklist to organize your internal investigations
• Detailed job descriptions for key staff
• Examples of history checklists and templates
• And a billing policy manual
ALL attendees receive a
CD-ROM with conference work tools and a workbook with session handouts to take home.
Who Should Attend:
• Practice Administrators
• Managing Partners
• Office Managers
• Physician Leaders/Physicians
• Financial Managers
• Billers
• IT Professionals
• Coders
• Chart Auditors
• Compliance Officers
• Reimbursement Specialists
• Business Office Managers
• Consultants
• Health Care Attorneys
• Billing Service Owners
DecisionHealth
Sponsors:

Day 2, Friday, Sept. 15, 2006

7:30 a.m.-8:30 a.m. Registration & Continental Breakfast

GENERAL SESSION

8:30 a.m.-9:30 a.m. Emerging Trends in Physician Practice Compliance, from a former OIG Insider

Heather Zimmerman
health care attorney
Reed Smith
Falls Church, Va.

If you don't have the resources to follow the HHS OIG's suggested compliance plan for physician practices to the letter, at least know the 2-3 critical elements you should consider implementing to protect yourself. That's the advice from Heather Zimmerman, health care attorney, Reed Smith, Falls Church, Va. She helped to write the model physician practice compliance plan as an OIG attorney. Heather gives you a glimpse inside the OIG's office, including what drives its investigations. She outlines several emerging compliance risk areas that could affect you. She ticks off the top reasons practices are targeted for audits (warning: be nice to your staff!). Your handout includes a checklist of regulatory compliance issues to consider when forming an imaging joint venture.

9:30 a.m.-9:50 a.m. Refreshment Break

BREAK-OUTS: CODING , BILLING & COMPLIANCE

9:50 a.m.-10:50 a.m. Prepare for ICD-10 – It's Coming Sooner Than
You Think

Jo Ann Steigerwald, RHIT, ACS-GI, ACS-OH
Medical Business Specialists
Baraboo, Wis.


OK, you probably thought you'd retire before witnessing the overhaul of diagnosis coding, but word is I-10 could be here as early as 2008. Don't take an early retirement. Instead, gear up and get your practice ready. At this information-packed session, you learn the inner workings of 1-10, which is much bigger with almost twice the categories of ICD-9. You discover details on the format, such as the coming alphanumeric categories instead of numeric only, and changes in chapters, categories, titles and regrouped conditions. You will receive a primer you will long remember.

11:00 a.m.-12:00 p.m. Navigating the Modifier Maze in the Global
Surgical Package

Nancy Reading, RN, BS CEO
CedarEdge Medical
Draper, Utah


Appropriate use of modifiers can make or break a surgical practice's revenue flow. Is it really better to avoid using an unlisted code and just apply a -52? Do you really understand the impact this will have on your reimbursement? What's the real difference between a -52 and a -53 modifier? Review operative notes for a variety of unique modifier issues with coding pro Nancy Reading, RN, BS CEO, CedarEdge Medical, Draper, Utah. Take a tour through the modifier maze using proven strategies for success. Do you know which of these modifiers, -58 versus -78, results in lesser reimbursement? How do you appropriately break up the global package with -54 and -55? What has to be in the notes to bill appropriately a modifier -22? Join Nancy as she takes a unique approach to help coders remember correct modifier usage and its financial importance.

12:00 p.m.-1:15 p.m. Lunch – Network with your Peers!

1:15 p.m. -2:15 p.m. Don't Be Ashamed of Your History – E/M's, That Is

Jennie Campbell
Shareholder, Pershing and Yoakley Associates
Knoxville, Tenn.


You know – and your doctors should know – your E/M history tends to be the weakest part of your E/M documentation, and the most confusing. For instance, you see "mild shortness of breath" in the chart notes. Does this equate to a respiratory ROS or associated symptoms or severity in the HPI? Don't despair. E/M coding pro Jennie Campbell, Shareholder, Pershing and Yoakley Associates, Knoxville, Tenn., steers you through the E/M history morass. You discover how to count documentation, such as "non-contributory," review sample templates to record history, learn the danger of vague history documentation, as well as the proper use of "all others negative." BONUS: Find out about the new commercial carrier-specific E/M guidelines and how this development affects you. Go home with examples of history checklists and templates that can be used in paper records and help you build your EMR.

2:25 p.m.-3:25 p.m. Decision-based Coding: A Unique Approach to Increased Coding Speed and Accuracy

George Alex, CPC, ACS
Director of Coding
Rockville, Md.


Going bug-eyed trying to figure out the difference between similar codes? Learn an innovative new approach, from DecisionHealth's coding pro George Alex, CPC, ACS, Director of Coding, that can be used to systematically identify the correct code, improving your coding speed and accuracy. Determining the correct code when multiple, similar codes are available for selection can be a difficult and time-consuming process. The CPT Index is often little help and frequently directs the coder to sizeable code-ranges rather than a single code. By using this approach, you will be able to zoom in on the correct code with minimal effort. You will avoid getting side-tracked by issues that are of no consequence, allowing you to focus your full attention on what is important for the encounter involved. Because this approach reinforces positive coding practices, you'll soon find that your coding skills are improving at a steady and rapid rate!

Adjourn

9:50 a.m.-10:50 a.m. How to be an EOB Super Sleuth, and Find Entitled Reimbursement & Unjustified Denials

Maxine Lewis, CMM, CPC, CCS-P
Medical Coding/Reimbursement Management
Cincinnati, Ohio


A good explanation of benefits detective can catch a lot of payer wrongdoing, and billing mishaps. Maxine Lewis, CMM, CPC, CCS-P, Medical Coding/Reimbursement Management, Cincinnati, shows you how to review an EOB for signs a payer shortchanged you. She demonstrates with examples of EOBs so you know how to detect and fix problems, from poor patient identifiers to incorrect modifiers, improper denial codes to flawed payments. Hear about electronic alternatives to manual EOB reviews, and tips to reduce denials and avoid write-offs. Your take-home CD includes a chart to help you keep track of payers' denial codes.

11:00 a.m.-12:00 p.m. Steps to Prepare for an Audit–
And Relieve the Pressure, Whether
It Comes from the OIG, CERT or Your Boss

Vicki Dwyer, ARNP, MN, ASC-EM, CPC
Compliance and Privacy Officer
Galichia Medical Group
Wichita, Kan.

If you haven't experienced an audit yet, odds are one is coming. Vicki Dwyer, ARNP, MN, ASC-EM, CPC, Compliance and Privacy Officer, Galichia Medical Group, a
22-physician multispecialty practice in Wichita, Kan., has seen several. One led to a corporate integrity agreement (CIA) with the OIG. She shares her latest first-hand lessons learned and gives you an auditing process that will work across payers – and help to improve your billing and reimbursement. Careful attention must be paid to incident-to billing (you may even have to explain the concept to investigators!). See why hospital documentation can be a saving grace, and much more. Your take-home CD comes packed with an audit checklist and outline to organize your audits, plus other documents sure to boost your compliance.

12:00 p.m.-1:15 p.m. Lunch – Network with your Peers!

1:15 p.m.-2:15 p.m. Band-aids® to Heal Those Common Billing Boo-Boos

Nancy Jacobson, CPC, CCS-P
Partners Healthcare Consulting
Minneapolis, Minn.


Nancy Jacobson, CPC, CCS-P, Partners Healthcare Consulting, Minneapolis, returns to take you through the billing process to reveal where you can get hurt – financially. She gives you techniques to tackle stubborn denials (here a routine works wonders!). She lists common billing mistakes, such as unbundling surgical codes or missing assistant-at surgery revenue opportunities. You get pointers to improve your front-desk performance, including how to flag certain patients for business office intervention. Go home with a CD that contains a flow-chart of the billing process and reasons for your top denials.

2:25 p.m.-3:25 p.m. 6 Steps to Motivate Staff
to Attack Outstanding A/R

Tamisha McPherson, MPA
administrator
Select Physicians
New Hyde Park, N.Y.

Talk about a billing turnaround. From 20% of A/R greater than 310 days to, within two years, average days of 30 – and the collection of $100,000s dollars in entitled (yet neglected) reimbursement. Tamisha McPherson, MPA, administrator with the multispecialty group Select Physicians (15 physicians), New Hyde Park, N.Y., lived this story. She reveals how she turned around the practice, including how to bring in an extra $30,000 in 90 days by incentivizing front-desk staff to collect outstanding balances. You discover strategies for dealing with payers, innovative ideas to retain key staff and monetary and non-monetary ways to motivate staff. Your take-home CD includes detailed job descriptions for key staff and a billing policy manual.

Adjourn

9:50 a.m.-10:50 a.m. How to Do a Compliance Audit from A-to-Z

Ben Frosch
President, Frosch Medical Consultants
Plantation, Fla.


You think you're in compliance. In fact, you've worked for an entire year on all kinds of processes and tools to make sure that nothing in your practice could cause you the least bit of trouble with government regulators. But are you sure you've covered all the bases? One little miss may be all it takes. That's why this session from Ben Frosch, President, Frosch Medical Consultants, Plantation, Fla., on how to audit your practice for all possible fraud – one of the most popular sessions we've ever offered – is essential if you really want to protect your practice…and not just comply with a few high profile rules.

11:00 a.m.-12:00 p.m. When Does a Billing Mistake Rise to the
Level of Fraud?

Abby Pendleton
health care attorney
Wachler & Associates
Royal Oak, Mich.

Everyone makes mistakes. And, as the government continually tells us, they don't prosecute mistakes. But at some point, either the number or the type of mistakes, or both, cross the line and appear on government radar screens as potential fraud. Then investigations and possibly prosecutions begin. The question is: Where are your mistakes in relation to that fraud line? When do simple coding or billing mistakes rise to the level of fraud? That's what Abby Pendleton, health care attorney, Wachler & Associates, Royal Oak, Mich., explains in this session, as well as what to do so honest mistakes remain off government sensors. Unless you're that one person who is mistake-free, you want to be at this session.

12:00 p.m.-1:15 p.m. Lunch – Network with your Peers!

1:15 p.m.-2:15 p.m. The New Government Crackdown on
Therapy Services

Brian Bates
Chief Compliance Officer
Baptist Health System
Birmingham, Ala.

Therapy is on the government's front burner again. New investigations into billing for physical, occupational and speech therapy continue to make lists of government risk areas, and OIG specifically mentions therapy services in its 2006 Work Plan. Find out from Brian Bates, Chief Compliance Officer, Baptist Health System, Birmingham, Ala., who oversees compliance at physician practices as well as hospitals, how government auditors and investigators are looking at medical necessity requirements, incident-to rules and a new focus by CMS on "skilled therapy" and how it is billed.

2:25 p.m.-3:25 p.m. How to Keep Your DME Relationships Problem-Free

Abby Pendleton
health care attorney
Wachler & Associates
Royal Oak, Mich.

Whether its power wheelchairs or lab equipment, the purchase by patients of various kinds of durable medical equipment on provider prescriptions increasingly draws the government's attention, with investigations and prosecutions on the increase. Certificates of medical necessity are no longer adequate in some cases as the government requires detailed progress notes and other documentation before approving these purchases. And with the government eye on DME relationships with suppliers, as well as the new accreditation requirements for DME suppliers, the chances of being audited, investigated and possibly prosecuted only increase. Find out from Abby Pendleton, health care attorney, Wachler & Associates, Royal Oak, Mich., who works with providers on DME compliance, what you need to do to make sure your relationships with DME suppliers fall on the right side of the law.

Adjourn

CODING - BILLING - COMPLIANCE