Meet your agency's newest team member
Tired of your agency getting buried under paper? Move online with the Home Health Coding Center. Empower your home health agency with the only tool your coding & OASIS staff need to submit clean claims for fast and full reimbursement.

How much will
productivity increase?
Use this calculator and see for yourself!
Here's how your Coding & OASIS teams can
improve accuracy and productivity:
2,000+ Coding & OASIS Tips
Spot red flags
See expert interpretation of official guidance
Identify documentation risk points
Streamlined Search
Search the ICD-10 Tabular, Index & key tables or OASIS M-items
Look up by code, item, term(s) or acronyms
Utilize personalized shortcuts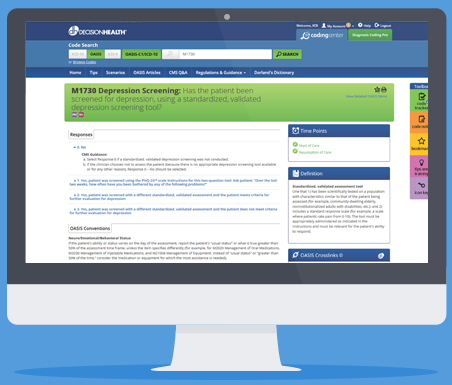 300+ Scenarios
Improve code sequencing and item response selection skills
Test real-world application
Customizable Tools
Create personalized reminders at the code or item level
Alert your team to agency policies for certain codes or items
Easily transfer content to your billing or clinical software
Choose an access point:

Upgrade anytime.
Professional Access
$1.86*
per day, per user
Interactive coding scenarios
Up to

12

BMSC HCS-D CEUs per year
Diagnosis Coding Pro monthly newsletter articles integrated at the code level
Training webinars on-demand
Searchable archive of coding articles & tools
Searchable archive of Diagnosis Coding Pro
Access to exclusive coding tools & decision trees
Plus
ALL standard access features:
Full ICD-10-CM code set for current and previous year
Streamlined keyword search of the Alpha Index, Tables or the Tabular directly
1,000+ exclusive coding & documentation tips
200+ exclusive real-world scenarios
5,000+ exclusive illustrations & plain-English definitions
Customizable tools such as personal notes and bookmarked favorites
325+ exclusive in-depth coding & documentation instructions
PDGM icons, tips, tools
Free product training & support
*Pricing for 1 user, discounts
beginning at 2 or more users
Expert Access
$2.60*
per day, per user
Aggregated OASIS guidance from all the official sources
275+ exclusive OASIS guidance & documentation tips
625+ exclusive plain-English CMS Q&A summaries
Searchable archive of the CMS Q&As
250+ exclusive real-world OASIS scenarios
OASIS & Outcomes Solutions archive of articles & tools integrated at the item level
Plus
all standard & professional access features:
Full ICD-10-CM code set for current and previous year
Streamlined keyword search of the Alpha Index, Tables or the Tabular directly
1,000+ exclusive home health specific coding & documentation tips
200+ exclusive real-world scenarios
5,000+ exclusive illustrations & plain-English definitions
Customizable tools such as personal notes and bookmarked favorites
325+ exclusive in-depth coding & documentation instructions
Training webinar on-demand
Interactive coding scenarios
Up to 12 BMSC HCS-D CEUs per year
Diagnosis Coding Pro integrated at the code level
Access to exclusive coding tools and decision trees
Free product training & support
*Pricing for 1 user, discounts
beginning at 2 or more users
Standard Access
$1.09*
per day per user
Full ICD-10-CM code set for current and previous year
Streamlined keyword search of the Alpha Index, Tables or the Tabular directly
1,000+ exclusive home health specific coding & documentation tips
200+ exclusive real-world scenarios
5,000+ exclusive illustrations & plain-English definitions
Customizable tools such as personal notes and bookmarked favorites
325+ exclusive in-depth coding & documentation instructions
Free product training & support
*Pricing for 1 user, discounts
beginning at 2 or more users